Description
CAT ADJUSTER POSITION
We are offering the training and certification necessary to handle claims within the following states:
Texas
Florida
Illinois
Louisiana
South Carolina
This training is mandatory to be certified. Certification via web can be done. please contact our office in order to get the link of our web training website.
Residential Adjusters are required to have 2 consecutive experience with proficiency in Xactimate 28.
Adjusters must be Certified by our Firm in order to be deployed by us.
Please note that background check will be perform to each adjuster as requirement.
MINIMUM EXPERIENCE OF 2 YEARS (Required and will verify)
REQUIREMENTS:
Must have an Independent adjusting licensed 520. (VALID).
Experienced with policies (H03, H06 and CP1010 and CP 1030)
Experienced in wind losses
Strong experienced in Homeowners
Knowledge in Construction
Have transportation
Have a digital camera
Have a Ladder
Not afraid of heights
Xactimate 28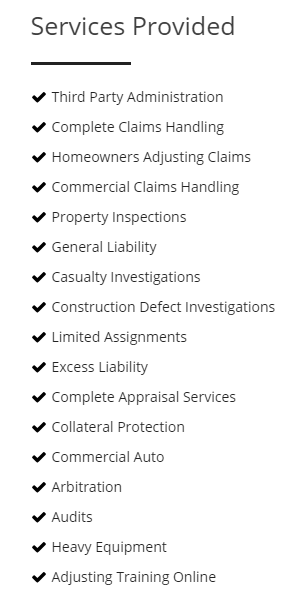 DUTIES:
Conduct initial evaluation, investigation and documentation to establish damages, and determine appropriate payment under the terms of the applicable insurance policy. Post appropriate reserves, pays, declines, and negotiate claims, based on results of first and third party investigations. Ensure fair claims practices in accordance with policy and legal requirements.
Assist claim investigative staff and local/state/federal law enforcement agencies in investigating alleged or suspected cases of fraud.
QUALIFICATIONS:
College degree or insurance course work/experience required
Superior organization skills and detail orientation required
customer service experience required
Excellent communications skills required
Ability to work co-operatively within a team environment
Able to manage pressure and stress.
Comply with datelines
Proficiency with Xactimate estimating platform to include the use of Sketch.
Willingness to work catastrophe duty for extended periods.
COMPENSATION:
Percentage of Fee based on insurance company schedule
PLEASE EMAIL RESUME TO: